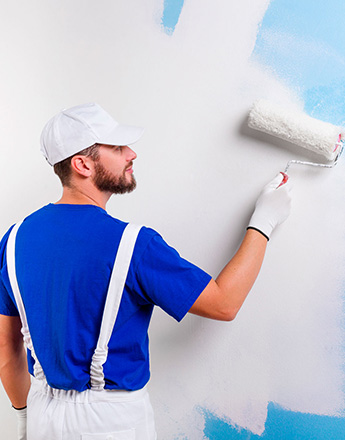 When your property's in need of a makeover you need to hire a specialist painter and decorator. This service isn't exclusive to residential buildings. You can also request the painters and decorators team on large-scale premises such as office buildings, pubs, bars and even multi-floor department stores. Are you a homeowner? Then the service is guaranteed to be suitable for you! It doesn't matter if you're looking to buy or sell, rent or rent out.

Hire Stephen's Experienced Painters and Decorators in Putney For:
Instant estimates

 – you can request a no-obligation quote as soon as you begin your inquiry

On-site assessments

 – that are completely FREE of charge and highly recommended. Let us see exactly what you need doing

Flexible time slots

 – if you need us to we'll adjust our working hours to fit into your busy schedule

Reliable professionals

 – choose interior painters who'll work diligently to ensure you experience a minimum of disruption

Cost-efficiency

 – working within a budget can be difficult, but we'll make it easy for you

Tried, tested methods

 – that'll guarantee your service is completed to the highest possible standard

Booking Options and Process
Get a preliminary estimate for your painting services by getting in touch with us by phone, email or live chat
Give our customer support your requirements and we'll be able to calculate costs for labour, materials and more
Schedule a date and time for one of the professionals who can visit you on-site, assess the amount of work and offer you solutions
Within one working day after this evaluation you'll have your quote made final. Bear in mind this can be changed in the event you add to or reduce our workload

The Services You'll Get From Us
Our services can be split into two main jobs: painting woodwork, and painting walls and ceilings. Each requires slightly different paints and methods. However, before putting down paint on any of your surfaces the team will first clear away and protect your possessions. Your woodwork will first be assessed so any scratches, dents or old paint can be removed. Once this is done it'll be treated with two coats of primer, dye or stain, and then coated with three layers of paint, varnish or oil. After everything's dry a full clean-up will be carried out! Your walls and ceilings will also need to be checked over for dents and other imperfections prior to painting. Other preparation works such as plastering can be arranged but will be counted as extra. When it has been the team will use a primer or undercoat if it's required and then put down up to three layers of paint. As with your woodwork a thorough clean-up will take place upon your services completion.
Contacting Stephen's Painting and Decorating Professionals in Putney
Talk to an expert painting and decorating adviser in Putney on 020 3404 3382. You can also reach us through this website's chat facility or by entering your details into the contact form.